1. What job are you applying for?
To start your cover letter, indicate which position you are applying for. Hiring managers review numerous applications for multiple positions on a daily basis. They don't have time to search your cover letter for clues about the job you want.
In other words, if the hiring manager doesn't see the position you're applying for in the first paragraph of your cover letter, they risk throwing your application in the trash.
So, when writing your cover letter, include your target job title in the first paragraph, like this:
I am an experienced security guard with a knack for improving safety wherever I work. I am delighted to apply for the position of Night Sergeant at Morris Security and appreciate the opportunity to observe and report for your business.
2. That you want the job
Your cover letter should state that you want the job. Now you're probably thinking something like, "Thanks for nothing, Captain Obvious. Just submitting my application proves that I want the job, doesn't it? "
Nope.
A recent study found that a third of new hires leave their jobs within 90 days. Staff turnover is costly for companies, so they favor applicants who indicate a desire to stay for the long term.
Therefore, it is essential to show that you are seriously interested in the position. Here is a list of things to say in your cover letter to show the hiring manager that you are a serious candidate:
Show passion for your work (with precise numbers)
If you like your job, say so in your cover letter. But don't just say you're passionate. Impress the hiring manager by proving your passion with real achievements and figures.
Here is an example:
For as long as I can remember, I have been obsessed with creating stunning visual art. I applied this obsession to my career as a graphic designer, winning 5 international design awards and helping my business increase organic traffic from Google image searches by 20%. I believe my passion for graphic design makes me a great candidate for the Johnsonville Online Visual Content Specialist position.
Connect the position to your career development
An employee who is about to submit a cover letter for promotion is a productive worker. Indicating that you are motivated to advance your career in your cover letter is an effective way to capture the attention of the hiring manager.
Here's a great example of what your cover letter should say about your desire for professional growth:
I am looking to take the next step in my career as an expert in customer service. I have managed small teams of over 3 people for 2 years and believe I can use this experience to grow as a Customer Service Supervisor for Florence's Flowers.
Express your admiration for the company's values
Introducing yourself as someone whose values ​​match those of the company is a good way to convey your interest in the job.
Here is the first paragraph of a cover letter that shows the candidate shares the values ​​of the company:
I am a recent graduate with a BS in Social Work and 4+ years of experience volunteering at local homeless shelters, looking to dedicate my life to raising homeless people. I've researched San Francisco Fresh Start, and I think your Shelter Staff mission and position fits my values ​​perfectly.
Mention a company contact
If you know someone who works in the company, drop that person's name (with permission, of course). A recommendation from someone the recruiter already knows gives you credibility and increases your chances of getting an interview.
The following cover letter excerpt shows how to provide a contact name:
I am interested in the position of Night Supervisor at Max Supermarket. I discussed the job requirements and my 6+ years of retail management experience with your General Manager, Betty Shore, and she encouraged me to apply.
3. Why you qualified
Each paragraph of your cover letter should explain why you are qualified for the position you are applying for. Start by listing your best selling point in the first paragraph, then continue to prove your relevant qualifications until the end of your cover letter.
When stating your relevant skills and qualifications, back up your claims with evidence.
Put yourself in the hiring manager's shoes for a moment. Which of the following statements is the most credible?
Obviously, the second statement is more credible because it includes specific achievements and results. Make your cover letter stand out by including similar data.
4. How you can help the business
Employers are looking for cover letters for both technical and soft skills they can use to achieve their goals. When writing your cover letter, describe how your skills can benefit the company to convince the hiring manager that you are qualified for the job.
Here's an example of what to say in a cover letter to show that you can benefit the employer:
I am delighted to express my interest in the open position of Director of Security Training at Davis Security. I served as a member of the United States Army Military Police for over 10 years, providing security for domestic and foreign bases. I believe my knowledge of security best practices will improve your organization's training, increase your efficiency, and expand your profit margins.
5. That you have researched the company
Add details in your cover letter stating that you have researched the company. Including proof of your research shows the hiring manager that:
You are really interested in the job
You wrote a cover letter specifically for their job
You have research skills
You appreciate the preparation
You take the initiative
Here are two examples of business research included in a cover letter:
I read in a recent press release that you are considering increasing your artificial intelligence capabilities. In my previous role, I led a team of engineers to develop facial recognition technology, and I am excited to transfer this experience to help your business become an AI leader.

The core values ​​of your website resonate with me. I, too, have a passion for unparalleled customer service, which is evident in the four Employee of the Month awards I won as a Customer Service Representative for Acorn Health.
If you are submitting a cover letter for a CV with no experience, researching the company is essential. While your work history does not prove your research skills and initiative, demonstrating them in your cover letter helps you overcome your inexperience and secure the job.
6. Whether you want an interview
Remember to say that you want an interview invitation for the job in the last paragraph of your cover letter. Ending your cover letter with a call to action builds your interest in the job.
Keep these tips in mind when requesting an interview in your cover letter:
7. That you appreciate the consideration of the employer
Finally, say "thank you" to the hiring manager for reviewing your application. You can express your gratitude for opening your closing paragraph, like this:
Thank you for taking the time to read my cover letter and the attached CV. I am confident that my proven communication and leadership skills will make me a valuable contributor to your business. If you would like to discuss my qualifications further, please contact me at (123) 456-7890 or [email protected] to schedule an interview.
You can also end your closing paragraph with a "thank you":
I am confident that my proven communication and leadership skills will make me a valuable contributor to your business. If you would like to discuss my qualifications further, please contact me at (123) 456-7890 or [email protected] to schedule an interview. Thank you for taking the time to read my cover letter and attached resume, and I look forward to hearing from you soon.
Cover letter example
Here's a full example that shows you what to include in your cover letter: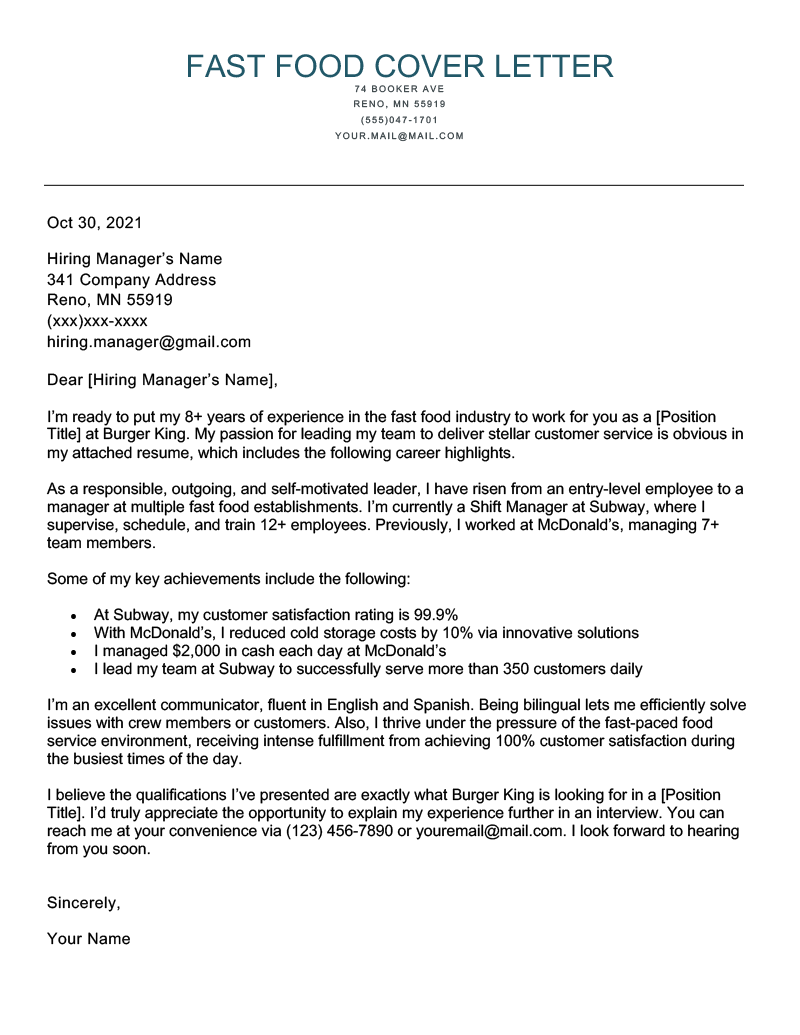 Fast food cover letter (text version)
October 30, 2021
Name of the hiring manager
341 Company address
Reno, MN 55919
(xxx) xxx-xxxx
[email protected]
Dear (name of the hiring manager),
I am ready to put my 8+ years of fast food industry experience to work for you as (job title) at Burger King. My passion for leading my team to deliver outstanding customer service is evident in my attached resume, which includes the following career highlights.
As a responsible, outgoing and self-driven leader, I went from being a newbie employee to being a manager in several fast food establishments. I am currently Shift Manager at Subway, where I supervise, program and train over 12 employees. Previously, I worked at McDonald's, where I managed over 7 team members.
Some of my main accomplishments are as follows:
At Subway, my customer satisfaction rate is 99.9%
With McDonald's, I reduced cold storage costs by 10% with innovative solutions
I managed $ 2,000 in cash every day at McDonald's
I lead my team at Subway to successfully serve over 350 clients per day
I am an excellent communicator, fluent in English and Spanish. Being bilingual allows me to effectively resolve issues with crew members or customers. Additionally, I thrive under the pressure of a fast food restaurant environment, receiving intense fulfillment by achieving 100% customer satisfaction during the busiest times of the day.
I think the qualifications I presented are exactly what Burger King is looking for in a (job title). I would really appreciate the opportunity to further explain my experience in an interview. You can reach me at your convenience via (123) 456-7890 or [email protected] Hope to hear from you soon.
Truly,
your name